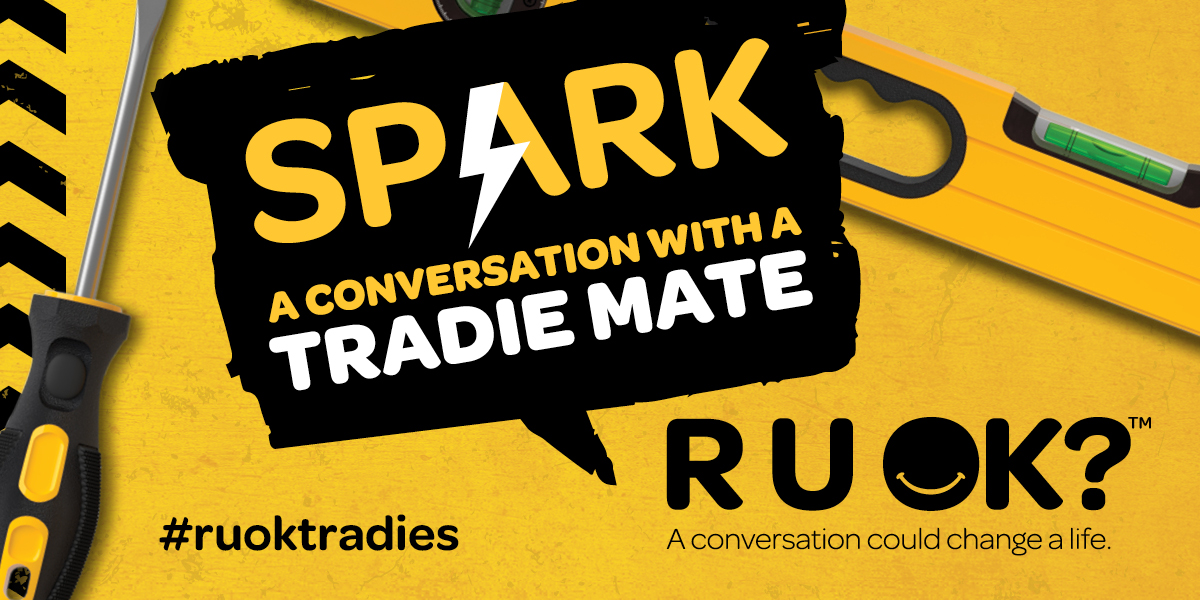 R U OK Day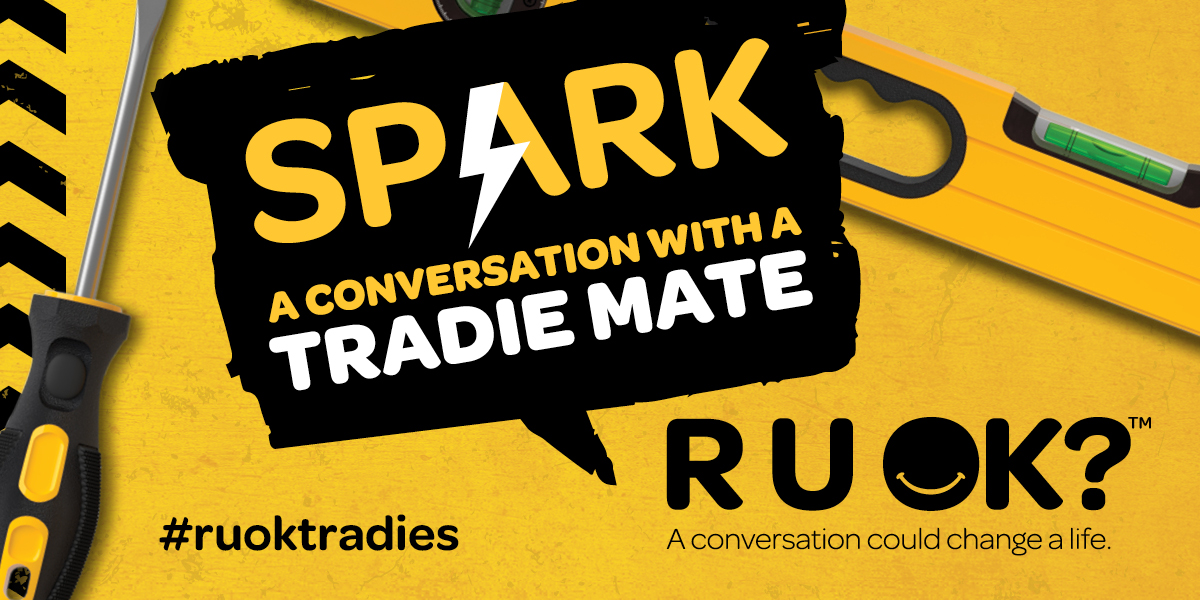 2Construct is aware that the ongoing lockdowns are placing a challenging strain of varying degrees on many of our staff, families, and the business.
So today it's important to ask the question, Are you OK?
Tradies face a range of challenges across their working lives – from job uncertainty to financial pressures, intense physical demands, and workplace culture issues. In an industry where stigma is high, these pressures can build up and impact mental and emotional wellbeing for tradies if they don't feel they can talk to others about their struggles.
Here is a toolbox of tips on how you can ask a mate if they are ok or spark a conversation with someone who might be doing it tough.
There are several ways that we can manage our wellbeing:

Try to keep things in perspective – have a healthy media coverage balance – while it is important to stay up to date, limiting your media consumption may be beneficial to decrease feelings of anxiety. Reducing exposure to media, including social media and daily government press conferences can alleviate the drain on energy levels as a lot of content is negative and doomsday scenario.


It's also important to remember people don't have to do it alone. Communication with your friends, family, and peers to stay connected is important. Conversely, be that ear to lend to a mate, colleague or family member who might be feeling overwhelmed or struggling.


Continue to speak out and advise senior management if you have been on the receiving end of unsavoury treatment, whether that be from Client representatives, subcontractors, consultants, or a fellow employee. In general terms, a culmination of pressures from project delivery and the pandemic have brought out traits in people which lead them to react in ways that could be construed as intimidatory and unprofessional. 2Construct does not condone bullying or harassment in the workplace in any instance, or refusal to adhere to site directions in compliance with the OH&S Act.


Maintain healthy habits during lockdown:
Eat a well-balanced diet (that includes your comfort food)

Be mindful of the warning signs that alcohol consumption might be impacting on your health.

Get some fresh air and exercise after work.

Take on your hobbies or find entertainment in your spare time which can be done closer to home for now.
If someone you know – a family member, someone from your community, a friend, neighbour, or workmate – is doing it tough, they won't always tell you. Sometimes it's up to us to trust our gut instinct and ask someone who may be struggling with life.
Below is a range of supportive help services to contact:
2C EAP (Mend Services) – phone 1300 176 774 or toll free 1800 300 01

Lifeline (24/7) – phone 13 11 14
Beyond Blue (24/7) – phone 1300 224 636
Suicide Call Back Service – phone 1300 659 467
Mensline – phone 1300 78 99 78
Blue Hats with Incolink– phone 03 9639 3000 or

register

Lifeline – phone 13 11 14 or text 0477 13 11 14

Beyond Blue- phone 1800 512 348 or

email

Men's Line– phone 1300 789 978

HALT- phone 0409 756 274 or

email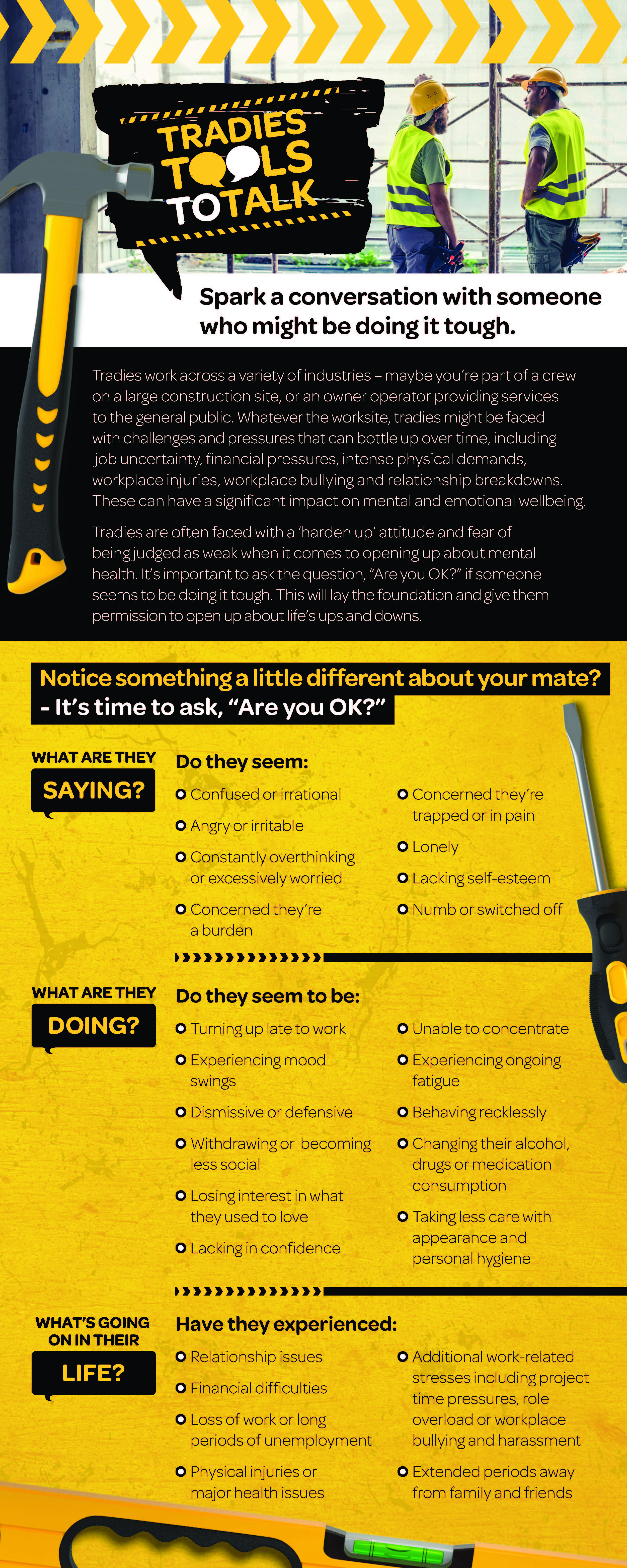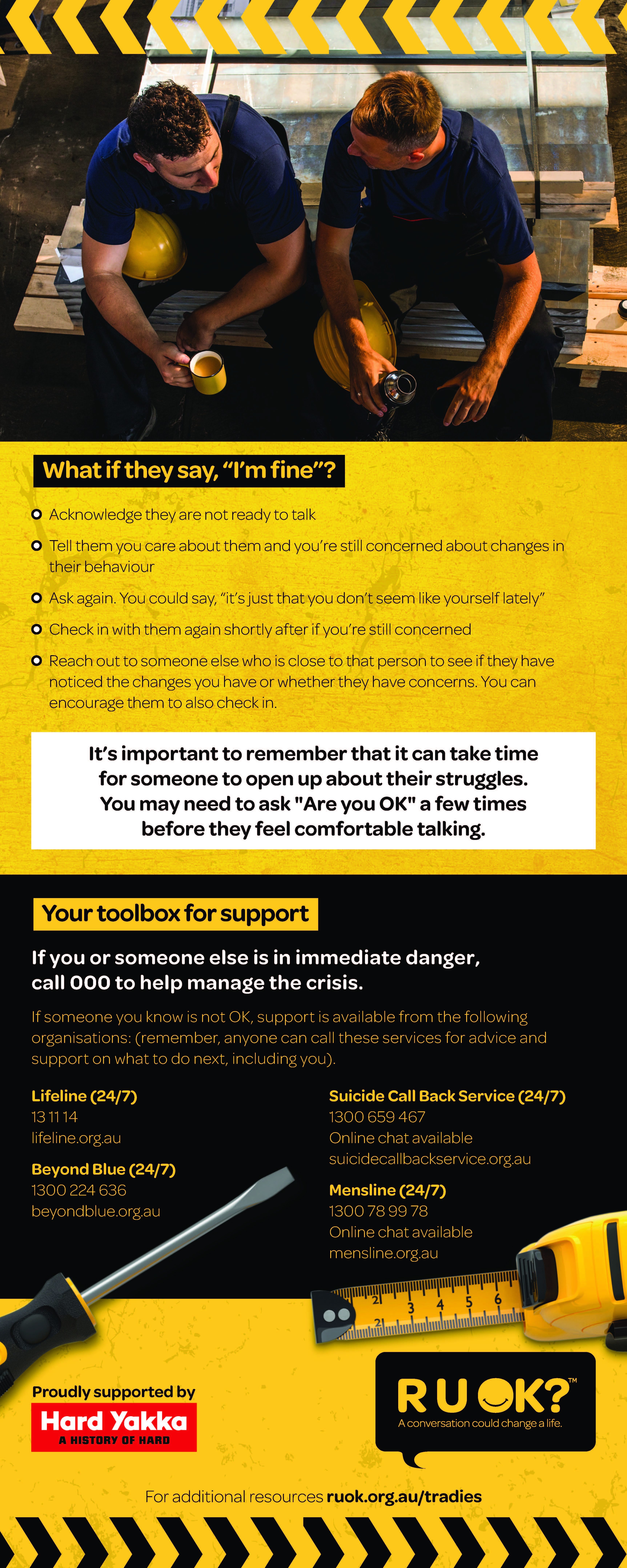 SORUCE: ruok.org.au
SHARE

CATEGORY/TAGS

RELATED ARTICLES